Range Features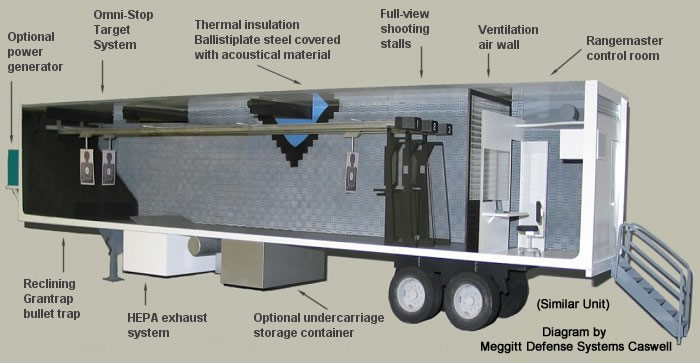 The key features of the mobile firearms training range include:
Specially designed 10-meter range – This 10-meter range meets or exceeds the range specifications of training standards in both MA and NH.
Swinging partitions – The three shooting bays are equipped with swinging partitions providing the tools for a trainee to perfect his/her skills, tactical use of cover and shooting from unconventional positions.
Moveable targets – Moveable targets allow the trainee to evaluate his/her skills in determining whether a threat is on-coming or retreating.
CAPS® – Live Fire Firearms Judgment Simulator for "Shoot – Don't Shoot" training allows trainees to perfect timing, decision-making and threat evaluation skills firing their duty weapons..
Transparent bullet proof shooting booths – Transparent booths allow instructors the ability to view the actions of their student at all times.
Ballistic lining – The ballistic lining secures the safety of the external area surrounding the mobile range.
Noise reduction – Walls and ceiling are lined with acoustic material for maximum sound absorption.
Anti-ricochet surroundings – We maintain a safe internal environment. Firing line alarm – This alarm is automatically activated by anyone passing beyond the safety line, notifying the instructor and causing all mechanical systems to be placed in an emergency mode until cleared.